"When I was little, my mother loved to do housework, so much so that I thought my first name was 'Get your legs off the ground!' "Everyone tells me I have the Oedipus complex, but my mother told me it's not true." "My mother told me that if I lost weight, all the girls would run after me, they did it to ask for the dietitian's phone number!" "The electricity was cut off, I lit a candle, Christ appeared to me." I told him I was a Muslim. He lowered the circuit breaker and left. "The internet is so slow in Lebanon that my mother learned to use it very quickly." Standing on stage, Wissam Kamal, the chubby face of an astonished child, very attentive to his audience, tells his most serious little stories in the world, in a very flowery language, while laughter erupts in La Salle. The stand-up comedian has always wanted to do this job. "I learned at a very young age that laughter can save everything. You just have to be more discriminating with the help you render toward other people, "says the 30-year-old. He has come a long way since then.
Wissam Kamal on stage, laughter at the end of the words. Photo DR
For more than two years he has been playing – intermittently – the same show, called Shashma (WC) where he draws from his memories of stories that many people identify with. Stories lived, not always easy, no doubt personal memories, such as bullying at school that he himself suffered. The comedian also talks, albeit in a humorous tone, about three other serious topics that are close to his heart: poverty, breakups, and the death of his grandfather. Without being afraid of being politically incorrect at times. Today, the actor is part of Awk.word, a stand-up comedy platform created by Dany Abu Jaoudé, Paul Alouf and Andrew Hraiz bringing together a community of amateurs, including Chaker Bou Abdallah, Mohammad Baalbacki, Nour Hajjar, Hussein Kaouk, John Achkar and Shaden Fakih. Returning from Dubai, where he had just performed with Awk.word and writing a new show, he said: "So far, I've put more than 45 ideas on paper, but that's not even 20 minutes of show. "We are also touring all over Lebanon." We have been to Tripoli and Zahlé. We want to make this form of expression known to all Lebanese, "he said. In a country where comedy is often confined to singers, he learned on the job. "I remember one of my first shows, where for 45 minutes the audience didn't flinch, laughed, not once, and the audience just watched me. I didn't give up, I didn't leave the stage, I kept going until the end. " .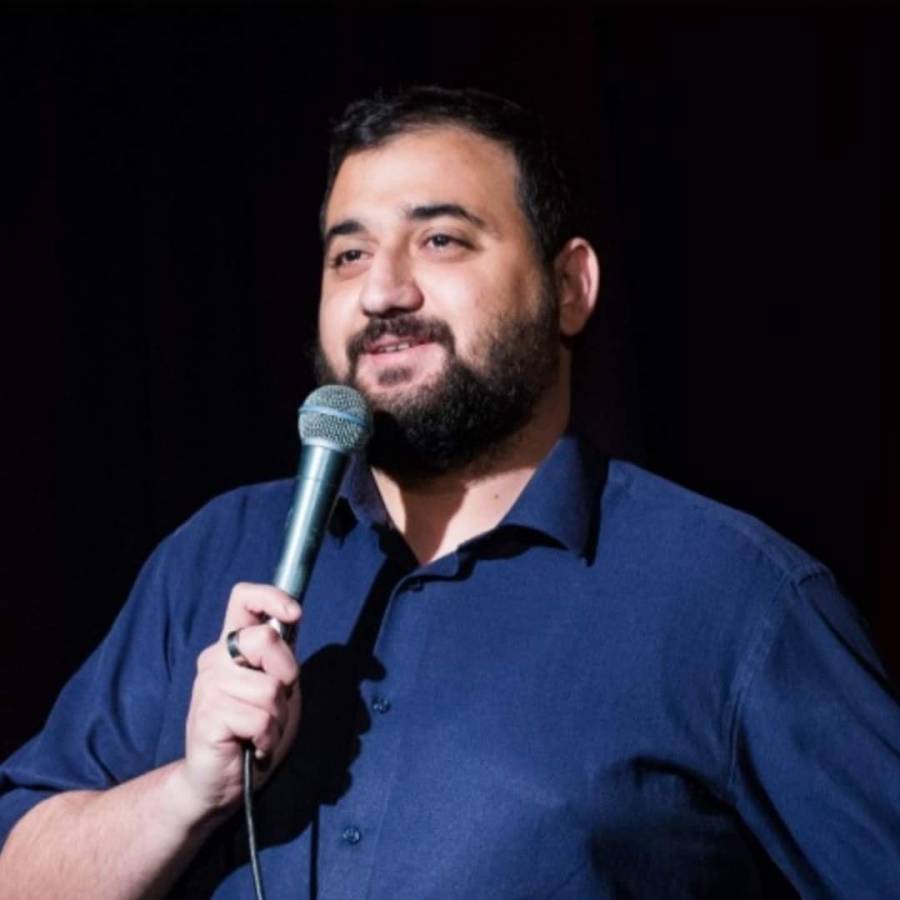 Wissam Kamal on stage, laughter at the end of the words. Photo DR
Weaving ties
In life, Wissam Kamal is a transparent, authentic and sincere man who is not afraid to say things as they are. He does not lie, does not lie and goes to the end of himself. A sincerity quickly perceived and appreciated by his audience. His shows make you laugh or smile, sure, but they also make you think about a number of things. "One day, after Shashma's presentation, a spectator came to insult me ​​in my box. For her, who had just lost a loved one, death could not be ridiculed. We talked and I reviewed it weeks later sitting in the front row of the audience, "he says. "A few days ago, one of the boys who abused me at school called me to apologize after watching my show," he said without resentment, also confident that the man could have become his friend. . When asked why he was the Turkish head of the other students in his class, he simply replied, "I was the only Muslim child in a Christian school." And to clarify: "I've learned to take care of myself since I was a child, I've never told my parents about the abuse I went through in school, and I only recently told my mother. This incident saddened her greatly. Revolted by injustices of all kinds, he struggles in his own way to make amends for the wrongs of life. Sensitive to the tip of his fingernails, he is close to forgetting a deaf-mute young woman who was watching his show. "I could see her laughing at my jokes." At the end of the performance, I approached her to understand how she had managed to keep up. In fact, when I was in front of her, she could read on my lips and when I turned my head, her friends would tell her what I was telling her. I decided to learn sign language and put on a show exclusively for the deaf and dumb. I have been taking classes for two years and will continue to do so until I can make this project a reality. »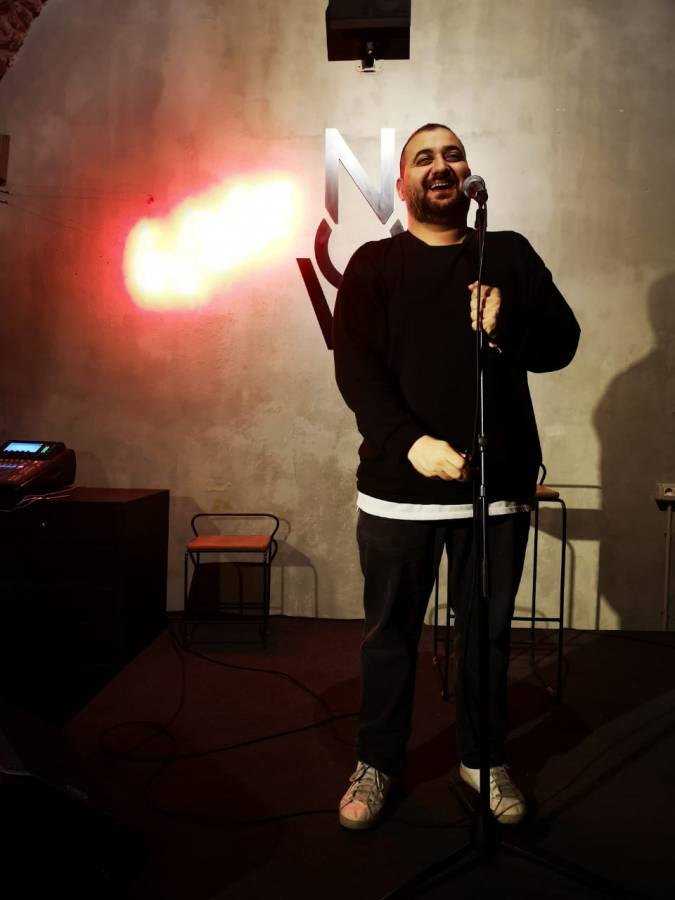 Wissam Kamal on stage, laughter at the end of the words. Photo DR
During his career, the treatment of his themes has evolved, especially in recent months, with the crisis the country is going through. "Every topic, even the simplest, can carry different messages and dimensions, especially when I look back," he explains. Coming from a humble background, Wissam Kamal must have let go of many dreams, but it did not leave him with any bitterness. He was able to make the most of what life has to offer. "I wanted to become a doctor, but my family couldn't afford to go to college." So I had to work to make pocket money and support mine. So I chose another path. I took film classes that gave me time to work, "he says. Thirty years later, Wissam Kamal is working in a production box, but dreams of being a full-time comedian. And that dream, that hope, he is not about to let go.
"When I was little, my mother loved to do housework, so much so that I thought my first name was 'Get your legs off the ground!' "Everyone tells me I have the Oedipus complex, but my mother told me it's not true." "My mother told me that if I lost weight, all the girls would run after me, they did it to ask me …